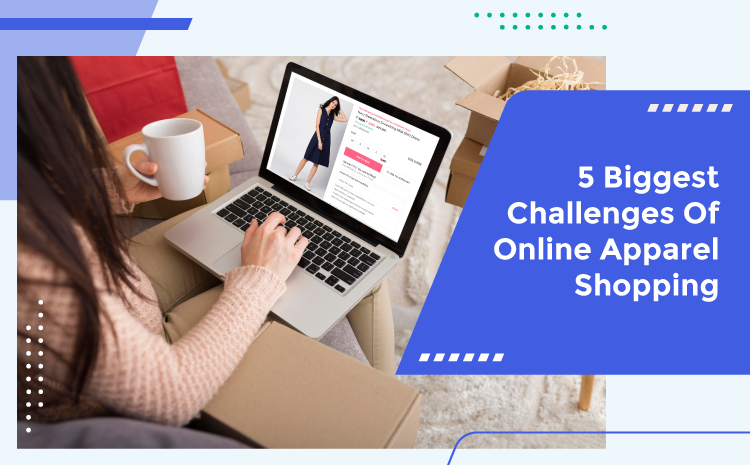 Love or hate online shopping, no matter what, it is undoubtedly here to stay. Online shopping is a great invention that enables people to buy whatever they want from the comfort of their homes. They no longer have to travel a lot, visit multiple stores, and stand in a long line at the checkout counter to grab the right apparel.
As internet access and acceptance is increasing rapidly worldwide, the number of online shoppers all over the world continues to grow every year. The e-commerce boom has transformed the way we shop and buy online. The vast majority of people would like to shop online due to the convenience and numerous advantages.
But just like everything else, the world of online shopping is not entirely pleasant. Running a successful apparel eCommerce business comes with its own set of challenges and issues.
With all the eCommerce business challenges your online business faces, here comes the exciting part – how do you discover the best solution to overcome the challenges. So, if you are having a hard time getting visitors to buy from you and not selling as many as you had like, we are here to help you solve your online shopping pain points so that you can concentrate on what matters the most to you and your business – Selling.
In this blog post, we're going to share five common online shopping challenges and how you can easily recognize them and fix them with our Size Guarantee AI-powered apparel size advisor. Also, explore how Size Guarantee can help you get back to running your business smoothly and redefine your store customers' buying experiences and journeys.
Challenge 1: Lack of support to complete the purchase
There's no denying that having a variety of clothing types is the key to online domination. Suppose you, as an online apparel store owner, offer too many choices with a lack of support? In that case, it is the critical factor responsible for the incredible shopper frustration that you should consider. And remember, once your shoppers are completely stressed out, there's a high probability that they won't choose anything at all, and they won't ever come back to your store for buying online.
Challenge 2: Online shopping is complicated
Online shoppers are attracted to websites that appear visually appealing and attractive but are increasingly frustrated by complicated website navigation and insufficient product details and description. Studies by Forrester Research estimates that about 50% of potential sales are lost because the visitors can't find what they're looking for due to a lack of product information.
Challenge 3: Missing product details
Unarguably, online shoppers hate dealing with product returns just as much as retailers or brand manufacturers do. They refuse to shop for a product online if they cannot capture it mentally or imagine how it will look unpacked.
Lack of detailed product information that addresses the shopper's questions about a product is a crucial mistake. It will decrease your reliability and cause visitors to leave your store/website without buying anything. According to a Forrester report, 45% of customers in the US are likely to stop shopping online if they cannot find quick answers to their questions.
Challenge 4: Unpleasant online shopping experience
It may surprise you, but online shoppers' attention span is no shorter than any other street buyer's attention span. The key difference here is that once online shoppers are distracted or bored, they leave and never return. They lose interest once they get fed up with your online apparel store services.
Challenge 5: Model vs. reality
Have you ordered clothing while shopping online, tried it on, and realized it looks completely different on you than it did on the model? We've all been in that condition once in a lifetime.
Educating customers is the ideal way to help them choose the right product that best fits their requirements and expectations. However, many eCommerce apparel store owners are overburdened with product return instances as customers often complain of size mismatch.
It not only puts an additional burden on reshipping the order, but it also increases the risk of receiving bad feedback, reviews, and even a chargeback. Sizing charts may have precise measurements, but they don't consider height, body type, or weight. It is generally difficult for most people to imagine what the product will look like on their body when the model wearing the product is tall and thin.
Size Guarantee - The one-stop solution
There is a constant increase in the apparel eCommerce industry and updating your online wardrobe with the best tools is imperative. And that's where Size Guarantee comes into the picture. When it comes to overcoming all these challenges, Size Guarantee is the best clothing size recommendation digital solution out there. It helps you deliver hassle-free and mesmerizing online shopping experiences.
The out-of-the-box clothing size recommendation tool helps shoppers and owners grab the right perfect size every time they shop online. Adding on, its compatibility with all the eCommerce store and eCommerce platform providers makes it the best. It helps your online store customer quickly and correctly choose the right clothes online without experiencing any size mismatch issues.
Online shopping is transforming the world in more ways than anyone could have ever imagined. With ever-changing customer expectations in today's tech-savvy marketplace, retailers must provide a personalized and enhanced online apparel shopping experience to stay relevant and competitive in the eCommerce world. Not surprisingly, going that extra mile for your customers, addressing their pain points will ensure a seamless and mesmerizing experience by letting them explore hassle-free online shopping at its very best.
Get your hands on the Size Guarantee that acts as a personal shopping assistant for your customers. Transform your customer's journeys and make more sales by leveraging the AI-powered Size Guarantee that can help your customers get the perfect fit every time they shop online. Don't just keep waiting. Grab it now!
Sharing is Caring – Click Below to Share