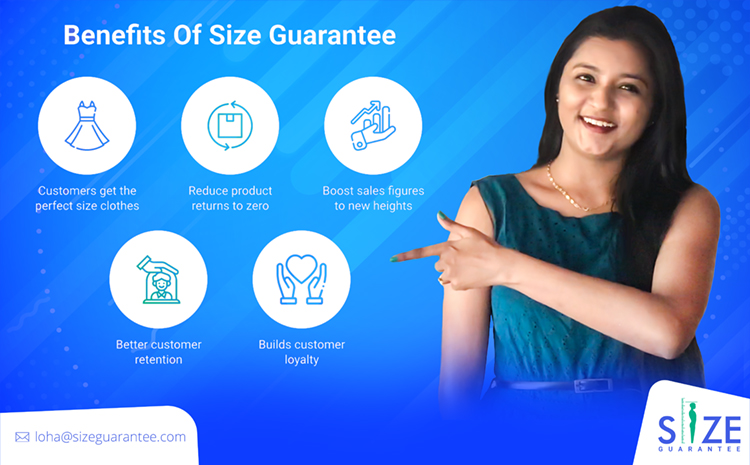 After being said, that Size Guarantee works with all kinds of eCommerce platforms and even works offline. Not only this, but the Size Guarantee directory is a free service for all our customers. We understand the efforts that you have put into your clothing store and value it the most. Once you add your store into this Size Guarantee Directory, all your clients and customers can shop for products of their size. This directory will enable the customers to search for their fitted clothes and shop for them with ease.
Now, the question is how to register your store on the Size guarantee website. Registering your store on the Size Guarantee website allows you to reduce the number of returns, refunds, and exchanges due to the size issue and make your customers greatly satisfied with your services. If you are a store owner and want to get your store registered with us, here is the required information.
Head over to this link https://www.sizeguarantee.com/directory/ and find the button with the text "Add my Store".

Once you click on this button, you need to select the platform you use for your eCommerce store. You need to pick the correct option from the platforms list in the dropdown.

After choosing the platform, you need to enter your hostname, email address and other details according to your selected eCommerce platform. You would also see a set of further instructions for you to follow.
Depending on the eCommerce platform you choose, you will have to follow few steps to register your store on the Size Guarantee plugin. 
The Size Guarantee Directory is like a free marketplace for all the eCommerce businesses to list their products according to size. And it also comes with benefits like minimal chances of customers opting for returns, refunds, or exchanges. Once you have registered yourself as an eCommerce store in Size guarantee and made your space, you will be allowed to display your products free. Along with this, 1000 size recommendations are free. Once you have used the first 1000 free recommendations, you will be charged $10 for every 1000 size recommendations.
The Size Guarantee marketplace offers a variety of marketing options for an eCommerce store. Along with this, the Size Guarantee Marketplace is affordable for everyone and can benefit you in multiple ways. The Size Guarantee plugin can reduce the labour and maintenance costs caused by returns. Along with this, the Size Guarantee plugin also helps in building the trust of your customers. Once they know that all clothes and outfits they order fit them perfectly, they'll keep coming to your website to shop again and again. This process will build loyal customers, thus increasing profit and revenue.
The Size Guarantee is a simple and easy tool to use. This tool can be used by both eCommerce store owners and their customers as well. It allows the customers to shop hassle-free and also helps the eCommerce stores in serving their customers better. The Size Guarantee directory acts as a yellow page directory that gives you the information that states which stores are using the Size Guarantee plugin so that you can shop with them without any worries. So do not wait; get the Size Guarantee app for your eCommerce store now!